14 Jan

Top Beauty Products of 2012
Photo Source
Yes, I realize we are half way into January but it is still the first month of a brand new year! What better way to prepare for the year ahead than to reflect upon the wonderful blessings of the previous year. And when I say blessings, it's okay to include awesome beauty products, right?? 🙂
I'm always keeping an eye out for new products to add to or improve my routine. So take a moment to look through my favorite products from the past year and let me know in the comments if you found something in 2012 that you will continue to keep in your beauty arsenal.
Favorite Foundation of 2012:
L'Oreal Paris Magic Skin Beautifier BB Cream
Last February I blogged about BB Creams and my process in researching and eventually buying one to sample. At this time, American makeup brands were just starting to develop their own versions of BB cream. Suffice to say there weren't many options at the drugstore (I could only find Garnier's BB cream) and all others were out of my price range and could only be purchased at places like Sephora. I purchased Etude House BB Magic Cream and loved that it cut down on the midday t-zone shine. However, as the months wore on and hot weather settled in, the t-zone shine worsened (dang it!) and more importantly, the color was too light for my face. I no longer frequent tanning beds but since I use sunless tanner it would make my face look whiter than the rest of my body. Granted, one of the purposes of BB cream is to lighten scars and freckles through the "whitening" agent of the product, but as I said this just didn't work with the bronze goddess look I strive for in the summer months. Lastly, I wanted the convenience of just being able to run out and buy some BB cream instead of ordering it online. OKAY GET TO THE POINT, right? 🙂 As drugstore brands started coming out with their own versions of BB cream I read lots of reviews and decided to try L'Oreal's BB cream. Basically, any other BB cream sounded like it would not work with my oily t-zone. So for me, Garnier and Maybelline were out.
Now the good stuff. The L'Oreal BB cream is great because it comes in different shades and has a very light feel to it. I currently use the shade "light" and will switch the "medium" for the spring and summer. The product actually comes out white with little beads. When I apply it, I simply put some on my favorite makeup brush (more on that later), dab it on my face, and starting buffing it in. The white color and beads quickly mix together and provide a light wash of color over the face.
So the main reasons I love this product? #1 I am not a morning person and I love that BB creams and tinted moisturizers shorten my routine. After I wash my face and put eye cream on I go right to the BB cream. The moisturizing, priming, and tinting is all completed in one easy and fast step. Lazy beauties rejoice! I also like that it doesn't have a heavy or cakey feel. I've used various foundations over the years but always gravitate back towards lighter products because I don't like the heavy feel. This BB cream is natural looking and any blemishes that aren't covered I simply cover with some concealer.
Note: The product also claims to correct but I don't know that I've noticed any correcting abilities. The only other thing that would be nice was if it also provided some SPF.
Rimmel Stay Matte Pressed Powder
If you read any of my beauty posts with any regularity you know that I am constantly trying to find a way to combat shine. I love this powder from Rimmel because it gives me a matte, airbrushed finish. It's a great product for setting my make up and a great powder for touching up my t-zone after work. I wish it were in a compact so I could touch up on the go but for now I just use a big, fluffy powder brush. I have this powder in the shade, "Buff Beige" and will probably have to switch to a slightly darker shade for spring and summer.
MAC Powder Blush in "Gingerly"
Stepping outside of the realm of drugstore favorites, MAC's Gingerly was definitely my favorite blush discovery of 2012. This shade, though it looks like a plain brown in the pain, is incredibly beautiful and natural looking. It provides a nice warm flush to the cheeks that I can use year round (though I particularly love using it in Fall & Winter). As I've stated before, some products are worth paying a little extra for. I use this blush CONSTANTLY and I still haven't hit pan in a YEAR! Like their
Studio Finish Concealer
that I adore, this is totally worth the cost. Oh and did I mention it stays on for hours??
Favorite Lip Products of 2012:
Revlon Lip Butters, Just Bitten Kissable Balm Stains.
Maybelline Baby Lips
Lip Butters
Some of you probably remember my
overzealous love for the lip butters
so I won't go into too much detail. I'll just say, lip butters feel great on the lips and provide amazing color. Basically, it's lipstick with legit moisturizing properties. So many pretty colors to choose from, so little time.
(Color above is "Strawberry Shortcake")

Just Bitten Kissable Balm Stain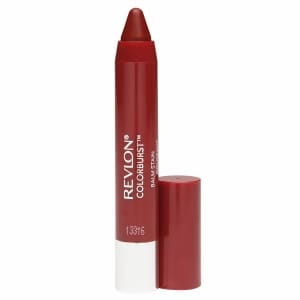 After the lip butter craze Revlon followed up with the Just Bitten Kissable Balm Stains. I loved this lip product because it actually felt moisturizing and didn't leave weird lines on my lips like most stains. Whenever I tried lip stains before they wore off unevenly and made my lips feel incredibly parched. These balm stains are smooth and shiny and leave a great wash of color on the lips. One of my favorite ways to use this product is when I'm going for a red lip look. I line my lips, apply the balm stain in "Romantic" (pictured above), and finish off with the lip butter in "Candy Apple." My favorite kissable balm shades are, Romantic, Honey (great, "my lips but better" shade), Adore, and Rendezvous.
Baby Lips
I was actually late in jumping on the Baby Lips bandwagon. I didn't see what the big draw was and one day decided to just give it a try. I don't have any of the colored shades but I am obsessed with Peppermint and Quenched. Both have a great smell but more importantly the feel on my lips is amazing! It's a great base for other lip products and doesn't ever become gummy or tacky.
Favorite Eyebrow Product of 2012:
Maybelline Define-A-Brow Eyebrow Pencil
I've cycled through numerous eyebrow products and have had plenty of mediocre brow pencils. This brow pencil from Maybelline is now my definite favorite! It applies easily and stays ALL day! I use it in the shade medium brown.
Favorite Eyeliner of 2012:
In a serious effort to find suitable drugstore alternatives to my high-end favorites, I stumbled upon NYX Slide On Eye Pencils. As some of you may have remembered I was
obsessed with Clinique Quickliner
for years. In fact, I still love it! But I was determined to find a less expensive alternative. I tried a few other drugstore eyeliners and none of them worked as well. Too many drugstore eyeliners pull and I wanted something that didn't irritate my eyes and would glide on with ease. I kept hearing good things about the NYX slide on pencil but when I went to purchase it at an ULTA in Woodbury, MN they didn't carry it. I really wanted to see if this would be my new holy grail eyeliner so I found it on
ULTA's website
and promptly ordered one. When the eyeliner arrived at my door it was basically love at first sight! The color is great and the formula is creamy but not watery or runny. It stays on all day and slides on like a dream (hence the name, I suppose!). I use the shade "Brown Perfection" for my everyday eye looks. I also purchased the pencil in "Jet Black" but unfortunately this doesn't stay on as well. It really pools in the inner corner of my eyes and I
HATE
that. I don't know what the deal is with that but I haven't had any other issues with the other shades I've purchased and as I mentioned, brown perfection is well… perfect! The only other downside is that these pencils are not self-sharpening like Clinique's. However, to me it is a small price to pay considering I am paying half the price. I find the pencil sharpens best with an actual NYX pencil sharpener (which you can also buy at ULTA).
One more thing, if you like playing around with fun eye colors these come in a wide range of shades and the color payoff is fantastic. I recommend Golden Olive (a different shade but very beautiful and natural), Pretty Violet (vibrant purple), Sunrise Blue (a cerulean shade), and Tropical Green (bright, blue green shade).
Favorite Brushes of 2012:
Sigma F80 & E40
Makeup brushes are definitely more of an investment. Truth be told it is very hard for me to shell out cash for them. But honestly to me they make a huge difference in the application of makeup and enable me to apply products with better precision.
This is the most AMAZING face brush for foundation, BB cream, tinted moisturizer, etc. It has the perfect thickness, length, and texture and helps makeup to go on like butta! (er… butter) I've used it for regular foundation and use it everyday with the L'Oreal BB cream. This is probably the best beauty purchase I made this year is a fraction of the price of expensive brushes from brands like MAC.
Like the Sigma F80, I use this baby every. single. day. No joke! I love this brush for adding the perfect amount of shadow to my crease. It supplies just that little extra amount of dimension to my eye look. I typically dip it in Urban Decay's "buck" eye shadow and then do a windshield wiper motion across both of my eye creases. If I want to add a little more shading I will dip it in a darker shade, tape off the excess, and apply it to the outer corner of my eyelids and blend into the crease. Once again, this brush is a fraction of the cost of similar MAC brushes. Perfection!
Well that was a long list wasn't it?!! There were just too many great discoveries in 2012. I can't wait to see what the next year brings!
What were some of your favorites you discovered in 2012?
~Christi